Installing Patio Doors, French Doors or a Conservatory is a fantastic way to relax and enjoy your outside space while bringing more light into your home, but it's important to remember that they can significantly increase your risk of being robbed!
While you may have taken all the necessary steps to increase the security of your home at the front of the property, patio doors and windows are often the most overlooked areas when it comes to security.
And, unfortunately, Patio Doors provide easy access to your home. That's why it's essential to take steps to increase your Patio Door Security.
To help guide you in the right direction and protect you from the threat of Patio Door burglaries and break-ins, we've put together a helpful guide on How to Increase Patio Door Security.
In this article, we'll discuss the importance of patio security, how to assess your current security measures and different security solutions, tips and strategies that can help you increase the security of your Patio Doors.
Understanding the Importance of Patio Door Security
The security risks involved with conservatories and Patio Doors are often overlooked by homeowners. But, the reality is that your Patio Doors simply provide another entry point and therefore another target for opportunistic burglars looking for their next hit.
As well as providing a way in, Patio Doors also offer a greater view into your home. Burglars might catch a glimpse of some particularly expensive possessions with a quick glance through your Doors and before you know it, you're the next target!
By examining and increasing your Patio Door security, you can prevent unwanted entry and safeguard your property, your belongings and most importantly your family.
The Risks of Unsecured Patio Doors
Patio Doors are a common target for burglars as they often have weak spots that can be easily exploited with a little know-how. Sliding Doors, for example, can be manipulated with ease and before you know it it's been shattered or completely lifted off the track!
Older conservatory doors are a particular target as they tend to lack the higher security standards of today, making them easy to be kicked in or pried open.
Without adequate security, your Patio Doors become an open invitation to burglars in the area, placing your home, your possessions, and your loved ones at risk.
Why Are Sliding Doors a Target for Burglars?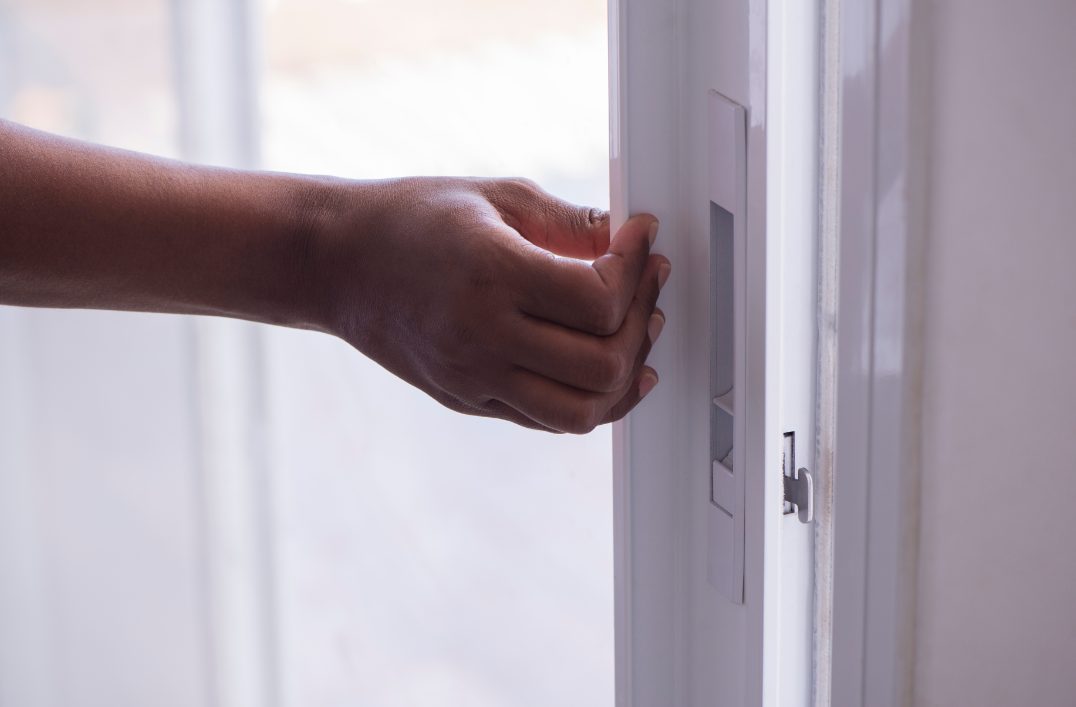 Sliding Patio Doors are often left unlocked and forgotten about
Their large windows advertise your belongings
They usually have older or less-secure locks that are easy to pick or damage
Typically located at the back of your property meaning a reduced chance of being seen
They're made of glass and can be easily smashed if all else fails!
It's clear to see that your Patio Doors could be rendering your Home Security improvements completely pointless. But what steps can you take to make your Patio Doors more secure?
Assessing the Current Security of Your Patio Doors
The first step in increasing your Patio Door security is to assess your current security measures and identify any weak points that need to be addressed. This will then provide you with a clear plan of action for steps you can take to increase your Patio Door security.
Identifying Weak Points
Take a good look at your Patio Doors and the surrounding areas. Pay close attention to any areas that could be used to gain entry, such as old or basic locks and rusty hinges. Are your doors easily accessible? Do you have outdoor lights installed? Any issues you discover should be noted as these will need to be addressed moving forward!
Evaluating Existing Security Measures
If you already have some security measures in place, it's time to assess their adequacy. Are they all working as they should? Are you using them properly? Could they do with an upgrade? We see a lot of customers who have an alarm system installed but it's completely outdated and therefore redundant!
By identifying weak points and evaluating existing security measures, you can take the necessary steps to ensure that your Patio Doors are as secure and protected as possible.
Choosing the Right Security Solutions
When it comes to your patio's security, it's important to choose the right solutions. You want to make sure that your patio is secure and that you're doing everything you can to protect your property. Once you've evaluated your patio's security measures and identified areas that need improvement, you can start looking for solutions.
Patio Door Locks
The door locks on your patio doors are your first line of defence against burglars, so it's vital that your Patio Door Locks are up to standard and locksmith-approved.
If your sliding doors or conservatory doors are old or poorly made, then it's likely that they only have a single latch holding the door in place. Unfortunately, a single latch won't put up much of a fight against a determined burglar!
Instead, you want to make sure that your Patio Doors are fitted with Multi Point Locks that provide additional protection against common lock-picking techniques.
Patio Door Handles
Investing in high-quality Patio Door Handles will ensure that your patio doors are as durable as possible and therefore more likely to withstand any break-in attempts from opportunistic burglars. Look out for handles that are designed to be tamper-proof for this exact reason.
Security Cameras
As well as upgrading your patio door hardware, you can also increase the overall security of your patio and outside space with external security measures like a security camera. Not only do they act as a deterrent for burglars and intruders, but they also give you the ability to capture visual data that could be vital should anything happen.
Most modern security cameras easily connect to your smartphone, providing you with the ability to monitor your patio remotely!
Motion-Activated Lights
Similarly to security cameras, the mere presence of a motion-activated light on your patio can send intruders running. To ensure your entire patio area is protected, make sure you purchase a light that's bright enough to light the entire area.
Locksmith-Approved Patio Security
With just some minor adjustments to your doors and outside area, you can rest assured knowing that your patio, and therefore your home, is safe and secure. Here at MPL, we specialise in high-quality door locks, handles and accessories – all approved by practising and experienced locksmiths. So, if you're looking to increase your Patio Door security, you know who you can trust.